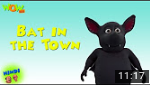 Bat in The Town is the 35th episode featured in season 8 of The Adventures of Motu Patlu.
Synopsis
Warning!!! The information below contains spoilers for the episode
Jon, the Don strikes at Furfuri Nagar with his evil acts once again. This time, Jon brings with him a spray that sends a scent that attracts bats. Number 1 warns Jon that he always fail if he messes with Motu and Patlu but Jon reassures him that he will succeed this time. Number 1 tries the spray out and accidentally sprays it on Jon, causing a large amount of bats swarming in. Jon gets badly scratched and damaged by the bats and he beats Number 1 and Number 2 over this.
When Motu and Patlu arrive, Jon sprays the bat spray on them and they begin to run away. Motu and Patlu pick up fake models from a store and the bats pick them up mistaking them for people. They then run to Dr. Jhatka's laboratory for help.
In the laboratory, Ghasitaram suggests the two to use a mirror to scare away the bats. Motu and Patlu do just that and they run back off. It turns off the mirrors made the situation worse and the bats kept following Motu, Patlu, and Ghasitaram.
While the plans are going on, Jon begins an evil plan for Furfuri Nagar. He decides to spray the bat spray all over the town so he can loot the banks. He does just that and the whole city goes into chaos. Inspector Chingum gets warned of the attack and also runs away.
After people fled the attack, Motu and Patlu tell the residents of Furfuri Nagar to hide all valuable belongings in the jungle so Jon cannot loot them. When Jon goes into the bank to steal, everything is empty and he walks out in frustration. Talking bats come out of nowhere and say they will eat Jon.
Jon gets very scared and runs from the bats, only to find out they are Motu, Patlu, Chingum, Dr. Jhatka, and Ghasitaram in disguise.
Gallery
Community content is available under
CC-BY-SA
unless otherwise noted.