Description
Chamku is the Main Villain Of 'Motu Patlu Aur Khazaane Ki Race'.The two Mans Around him are the repeater of his sentences,if he says they repeat that. He wants to steal the crown of Maharaja of Kamalpur so he was chasing the doggy because the map of the crown is in the dog's Belt. He was stealing the Map but Motu Patlu take the map but he takes the picture of the map.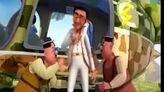 Appearance
He is thin and tall in appearance wearing a golden belt and jewellery He wears a white shirt, pants and coat.
Powers And Abilities
He is very clever. In the movie he fools Motu into giving him the crown. There is a Lightning Wave in his teeth(used to protect him from the gang).He has his own Helicopter. 
Trivia
He has a Helicopter,lab,thousands of men and has also learned Kung Fu.
Dialogues
Saaf-Safai Hame Saaf Karo"(Clean-Ness Clean Me!)