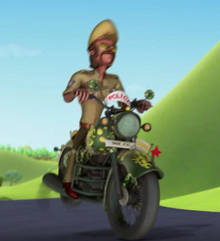 Chingum's Motorcycle is a large and powerful motorcycle that is Inspector Chingum's preferred method of transportation and he uses it the most often during his police chases. The motorcycle has some of the strongest torque and thrust power that Chingum often cannot handle it and falls off the motorcycle. It may be the heaviest and strongest bike in Furfuri Nagar.
Description
The Motorcycle has a very similar body design to the American Harley Davidson FLSTS motorycle. It's engine size would be an estimated 1500 cc and has a very powerful torque. allowing Chingum to catch up to fleeing criminals like Jon and his goons on their truck.
The heavy bike is forest green colored on its body, with yellow stripes and design marks running across throughout it. The bike has 2 rear view mirrors as most motorcycles do. The bike also has 2 exhaust bike on each side allowing fast circulation to occur. A plate saying POLICE is on top of the bike's round singular head light. The bike has the Maharashtra number plate behind it as well as a tail light.
Gallery