Description
Ghasitaram also referred to as Ghaseetaram, is one of the main characters in Motu Patlu. He is a friend of Dr. Jhatka and works with him in the lab. He also claims to have an experience of 20 years in various fields, though most of the time his "experiences" don't help. He is voiced by Saurav Chakraborty.
Appearance
His style is a similar form of Patlu. He wears a cobalt blue tunic, violet dhoti, dark red jacket, and brown shoes, and glasses like Patlu.
In the newer episodes of Motu Patlu, he wears a peach-colored tunic, a green vest, and brown leggings. However, he also wears his normal clothing.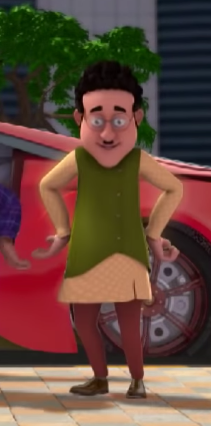 Personality
Ghasitaram is a coward person who wants to and sometimes runs away from danger or trouble. He is the most coward person in the gang. He is also cunning and often makes Motu and Patlu the guinea pigs of Dr. Jhatka's experiments. He also acts all childish sometimes. When he gained cloud powers, he went too far and caused destruction. In The Bulk, he refused Dr. Jhatka's injection to make him the strongest person but started acting like he wanted it to attract Motu and Patlu, showing his acting skills.
Powers and Abilities
He is a witty and clever person and can sometimes be-fool Motu to fall into Jhatka's experiments. Sometimes his experience can also work and help the gang. For example, he helped Motu and Patlu in many of their businesses.
Weaknesses
He is a coward. He does not know any sorts of combat. When he does happen to have any power/strength, he gets carried away with it and causes harm.
Dialogues
"Oorri Baba! Mamoonii bachaaao! (Oh God! Mom, help!)
"Hamko iss may bees saal ka tajarba hai! (I have twenty years of experience in this!)
Trivia
Due to his accent, there is speculation that Ghasitaram is Bengali.
Ghasitaram gets back pain when he sweeps. (Samaaj Seva)
As he brags about having 20 years of experience in almost everything, he is also only 20 years old and is possibly the youngest adult out of the entire main cast. He said his age at least once and is currently the only character to reveal his actual age so far. However, this was revealed in the YouTube captions, which tend to occasionally be inaccurate, and Ghasitaram could be referring to his 20 years of experience.
Ghasitaram's pajamas are completely blue, but the number 20 can be seen all over his pajamas.
His name has been changed to Gramasevaka in the Sinhalese dub.
In the episode Jadookar Phislekar Ka Bungalow, he tells Motu that his mother used to call him "Golu" when he was young, as well as mentioning how she "used to love him a lot". This is most likely the reason he says "Mummy!" a lot.
Gallery
Community content is available under
CC-BY-SA
unless otherwise noted.