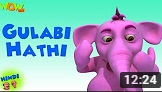 Gulabi Hathi is the 30th episode featured in season 2 of The Adventures of Motu Patlu. The episode translates into "Pink Elephant" and introduces a famous elephant named Appu.
Synopsis
Warning!!! The information below contains spoilers for the episode 
Motu and Patlu start out their morning stretching and walking, suddenly, they hear the painful screams of an Elephant being whipped at the Maya Circus. They inspect the issue and find a circus elephant by the name Appu being cruelly whipped by his Ringmaster. Motu Patlu angrily worn and threaten to shut down the owner for abusing the helpless elephant. Accidentally, the circus tent falls from Motu's foot getting tangled and the elephant Appu runs loose.
With the angry elephant on the lose, the elephant steals a skater's skateboard and skates off with it. The elephant Appu starts doing stunts and tricks on the skateboard, Motu Patlu chase after Appu and grab his tail. Suddenly Appu crashes into a flat wall and flies into large pools of paint. He falls in the pink paint and his grayish skin turns pink. Motu Patlu assure the elephant will be fine and head back to town.
At Furfuri Nagar by Chaiwala's stall, Appu is walking the streets and shocks Motu Patlu. They demand why the elephant is in the streets and not in the jungle, Ghasitaram sees the elephant, states that pink elephants are divine and holy and starts to feed him Prasad. Motu Patlu disagree and the Ring Master suddenly appears to take back his elephant.
Appu runs at the sight of this with Motu Patlu and the 2 run great distances through Soccer field, mudholes, and farms to escape the ring master. Finally the two reach near the edge of a forest reserve for elephants and wildlife. A bridge seperates the park from the other body of land and Appu is confused to cross at this point.
In the end, Appu ends up crossing the bridge and reaching the reserve. He,however, heads back and teaches his master a lesson by throwing him over the bridge. Appu is then taken to the forest reserve. Whatever happend to Appu afterwards is unclear and up to the viewer to decide.
Video
Community content is available under
CC-BY-SA
unless otherwise noted.