Lambi Lambi Naak is the 4th episode featured in season 5 of The Adventures of Motu Patlu.
Synopsis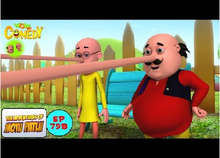 Warning!!! The information below contains spoilers for the episode
Both Motu and Patlu are suffering from a flu and have runny roses. They go to Dr. Jhatka's lab for medicine and treatment. Dr. Jhatka is busily working on some potions and is angry when he hears Motu and Patlu's sneeze. After he scolds them, he gives them both humidifiers with medicines that will help free the congested noses.
Motu and Patlu enjoy the humidifiers except Motu cranked up the heat setting to much and both of their faces ended up getting burned from the steam. They both go to bed after the treatment.
When they both wake up the next morning with very long noses. They freak out and try to figure out what was the cause of it. They conclude that it was Dr. Jhatka's medicine that made their noses very long. So they head to his lab for a cure. On their way, they meet the mean Boxer. The Boxer laughs at their noses and squeezes it very hard to see if it is real, when Motu accidently pokes him hard, the boxer sends him flying with his punch.
Both Motu and Patlu land on the entrance gate of Furfuri Nagar where they break the crossing gates. Inspector Chingum gets upset by this and uses the two's noses as a gate. They both do this for one hour,
When they finally arrive at the lab, both Motu and Patlu find out that Dr. Jhatka has gone to Kamalpur and wont be back for days. They get frustrated and for the next days they get bothered by people using their noses as a playground and to hang clothes.
When Dr. Jhatka comes back, he and Ghasitaram host a nose fight competition except Motu and Patlu's noses have cured. Motu uses the humidifiers at their noses and Dr. Jhatka and Ghasitaram end up taking in the nose fight matches.
Characters
(Major Characters)
Random Civilians
(Minor Characters)
Trivia
Even though, Motu and Patlu's noses were longer Later on Ghasitaram and Jhatka's noses were not that long (They are almost 3 fts long)
Gallery
Community content is available under
CC-BY-SA
unless otherwise noted.