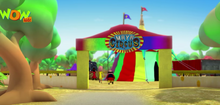 Maya Circus is an entertainment circus located on the outskirts of Furfuri Nagar near a forest. It was home to Appu, a rescued and former circus elephant. The circus makes its only debut in the episode Gulabi Hathi.
Appearance
The circus features 3-4 small and colorful tents laid throughout the exhibit. Where Appu's exhivit laid stood a standing table for stunts and a rainbow colored tent just feet away. Appu's Ringmaster would normally stand there to teach the elephant tricks and would often abusively and necessarily whip the elephant over small mistakes. This was the same area where Motu and Patlu scolded the Ringmaster for abusing the elephant.
Not too far from Appu's exhibit lay 3 other tents, one colored blue, another colored purple, and the other colored green. The exact function of those tents is unknown although they are part of the circus. Small wooden fences mark the edges of the circus making a boundary and barrier from the outside.
Gallery
Community content is available under
CC-BY-SA
unless otherwise noted.