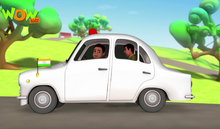 Mayor's Car is a white subcompact car that is the primary mode of transportation for the Mayor of Furfuri Nagar. A hired drivers steers the car for the Mayor while he sits in the back seats. The car is based off the Hindustan Ambassador Grand model.
Description
Interior
The car has red nylon seats that can occupy up to 5 passengers; 2 in the front and 3 in the back. The steering wheel is on the right side and the car has Automatic CVT transmission allowing no shifting gears. The car also is spacious and allows the mayor to comfortably sit during his rides.
Exterior
The car has a ivory white body paint to it, the cars roof arches up and bends down. The tires are somewhat small and there is a flag of India on the car. There is a red colored topper on the top of the car written MAYOR and like a police light, it flashes and beeps in emergency. The car has 2 doors and a small trunk in the back. It normally is escorted by other government cars so the mayor is safe.
Gallery