Motu Patlu (Hindi: मोटू पतलू) is a CGI-animated comedy/fantasy television series produced by Maya Digital Studios and broadcast on Nickelodeon India and YouTube. It is created by Cosmos Maya, the same company that created ViR: The Robot Boy, Eena Meena Deeka, Shiva, Chacha Bhatija, and Guru Aur Bhole. It was first aired on 16 October 2012, with the episode "John Banega Don". The series is based on the comic characters of the same name from the children's magazine Lotpot. It is very often referred to as anime.
The show is directed by Ronojoy Chakraborty and the theme music composer is Sandesh Shandilya. The producers are Deepa Sahi and Anish JS Mehta. The theme song "Motu Aur Patlu Ki Jodi" is sung by Sukhwinder Singh.
It is one of the most popular kids shows in India and is very popular in South Asia in general.
In 2015, when Motu Patlu aired on Wow Kidz, it was known by its extended name, The Adventures of Motu Patlu.
Synopsis
Inspired from the characters of Lot Pot Comics and Series, Motu Patlu is a lively comic caper for kids as well as the entire family.
The series follows the daily adventures of best friends Motu and Patlu, who live in the town of Furfuri Nagar. They often land in crazy and comedic situations. Motu sometimes creates problems, and Patlu is the one who mostly solves them.
The main antagonist in the show is a criminal named John and his sidekicks Number 1 and Number 2 who steal things, most people's money and create havoc in Furfuri Nagar. It is always up to Motu, Patlu, and their friends to stop them.
The series's original language is Hindi and it has been dubbed into Bengali, Tamil, Telugu, Urdu, Indonesian, Sinhala, Vietnamese, and English, with English getting dubbed twice due to the first run only having dubbed seven episodes. A Spanish dub is currently in the works. The Bengali dubbed episodes that are very rare. There are also some Telugu, Tamil, Gujarati, Marathi, and Kannada dubs dubs of Motu Patlu as well. In the other-language versions of Wow Kidz, there are Arabic, Bahasa, and Urdu dubs of the show. Online, many episodes have English, Spanish, and French subtitles available. It is uploaded on YouTube by Wow Kidz and Wow Kidz Comedy, the YouTube channels of Cosmos Maya.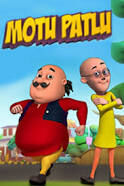 Merchandising and promotion
Since the inception of the television series, its creators Lotpot magazine, Maya Digital Studios, and Nickelodeon India are aggressively promoting its merchandising, the series products, and tie-ups.[1][2]
In March 2014, Nick India tied up with the Yellow Diamond chips brand for the promotion of its products across various media.[3][4] In November 2014 a major deal was signed by Horlicks for promotion of its brand with the series's characters in its marketing ads.[5]
(Credits to Wikipedia for this information)
Click here to see the page about this topic.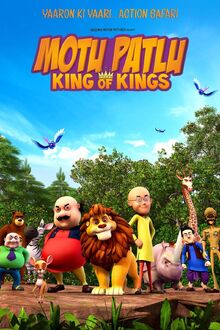 Spin-Off Series
Motu Patlu has spawned two spin-off series called Inspector Chingum and Guddu the Great. Inspector Chingum was released on Amazon Prime Video with 2 seasons. On 29 April 2019, Inspector Chingum was aired on Hungama TV in India, and the series can be watched online on YouTube on the Wow Kidz channel.
Guddu is shown on Disney Channel, Hungama and Zee5.
Wow Kidz
Wow Kidz is Cosmos Maya's main YouTube channel. It features content from shows like Motu Patlu, ViR: The Robot Boy, Eena Meena Deeka, and Chacha Bhatija. Wow Kidz was founded in 2015 by Cosmos Maya. This information can be found in the "About" page on the Wow Kidz channel. They have a Twitter, Facebook, and Instagram page.
Production
Production of Motu Patlu started in 2011 by Cosmos Maya. The first two seasons were done. Season 3 started in 2012, along with Season 4.
Episodes
Note: This list needs to be updated.
All information in this section comes from Wikipedia's page about Motu Patlu.
| Episode No. | Title |
| --- | --- |
| 391A | John Ki Running Road |
| 391B | Discount Sale |
| 392A | Motu Patlu Ka Fire Extinguisher |
| 392B | Motu Ka Inaam |
| 393A | John Ki Tijori |
| 393B | Poultry Farm |
| 394A | Boxer Ki Biopic |
| 394B | Bhulakad Chachu |
| 395A | Humshakal Ki Talash |
| 395B | Motu Ke Kharate |
| 396A | Minister John |
| 396B | Fire Brigade |
| 397A | Nakli Sher |
| 397B | MP Bank |
| 398A | Motu Patlu Ka Fashion Show |
| 398B | Don the Wolf Boy |
| 399A | Motu Patlu Ki Car Race |
| 399B | Motu Patlu App |
| 400A | Apna Hotel |
| 400B | Mr. Badbadiya |
| 401A | Motu Patlu's Photo With Superstar |
| 401B | Online Interview |
| 402A | Motu Ki Dadi |
| 402B | Motu's House on Sale |
| 403A | The Letter Box |
| 403B | Motu Patlu The Press Reporter |
| 404A | Trapped in the Tower |
| 404B | John the Iron Man |
| 405A | Cheese Rat Trap |
| 405B | Motu Ka Charity Prize |
| 406A | Dagmagta Motu |
| 406B | Invisible Hathkadi |
| 407A | Selfie Competition |
| 407B | Welcome to Furfuri Nagar |
| 408A | Motu Patlu in Detective Agency |
| 408B | Holographic Order |
| 409A | Chotu Ka Birthday |
| 409B | Jhatka Ki Special Van |
| 410A | John Ka Power Snatcher Powder |
| 410B | Wrestlers in Motu Patlu's House |
| 411A | John Ka Toofan |
| 411B | John Ka Mineral Water |
| 412A | Motu Patlu Ki Painting |
| 412B | Motu The Hero |
| 413A | Hi-Tech Gadget Agency |
| 413B | Boxer Ki T-shirt |
| 414A | Animals at Home |
Controversy
Motu Patlu has often been the subject of controversy. Many kids are reported to be addicted to the show, and due to its defiance of physics, kids have tried to imitate the characters by doing dangerous actions, such as jumping into pools, because of the impression that they were near-invincible like the characters in the show. It has been reported that some kids have also started to eat more samosas to gain strength despite the fact that samosas are considered as junk food.
International or Other-Channel Broadcasts
In India, Motu Patlu airs on Nick, Nickelodeon Sonic, Nick HD+ and Rishtey. It is broadcasted or aired in other countries as well such as Pakistan, Vietnam, Nepal, Bangladesh, Indonesia and Sri Lanka. Channels include: Nickelodeon Pakistan, Indosiar, Kompas TV, Maasranga Television, NTV Plus, and Derana TV.
Trivia
The show's name has been changed to Sutin Matin for the Sinhalese dub.
The show was inspired by a show made by Lotpot called Motu Patlu: Puppet Show.
According to the CEO of Cosmos-Maya, Anish Mehta, Motu Patlu is the "Indian version of Laurel and Hardy."
Multiple aspects of the show have become memes, the most famous being Nick India Dab and R Se Rap.
S Se Safe wasn't taken seriously because it wasn't a meme that was popular.
In English, "Motu" means means "fat guy" and "Patlu" "thin guy". This can be found on the TV Tropes website. However, Motu and Patlu's names can simply be interpreted as just "fat" and "thin," respectively.
According to Wikipedia, there are 800+ episodes produced. It has been reported that Motu Patlu has reached 1000 episodes.
It is shown that in LotPot, Motu and Patlu were brothers, but here they're shown as friends.
Related Shows
Gallery
Community content is available under
CC-BY-SA
unless otherwise noted.