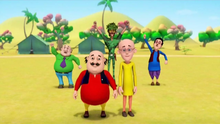 Motu Patlu is a CGI-animated comedy/fantasy television series produced by Maya Digital Studios and broadcast on Nickelodeon India. It first aired on 16 October 2012, with the episode "John Banega Don". The series is based on the comic characters of the same name from the children's magazine Lotpot. It is very often referred to as anime.
The director is Ronojoy Chakraborty and the theme music composer is Sandesh Shandilya. The producers are Deepa Sahi and Anish JS Mehta. The theme song "Motu Aur Patlu Ki Jodi" is sung by Sukhwinder Singh. It is one of the most popular kids shows in India.
Synopsis
Inspired from the characters of Lot Pot Comics, Motu Patlu is a lively comic caper for the kids as well as the entire family. Set in the beautiful city of Furfuri Nagariya, the story is about Motu and Patlu, who are as similar as chalk and cheese. The Awesome Twosome are always on an adventurous expedition and have an uncanny ability to get into tricky situations every single day!
The series follows the daily adventures of best friends Motu and Patlu, who live in the town of Furfuri Nagar. They often land in crazy and comedic situations. Motu sometimes creates problems, and Patlu is the one who mostly solves them.
The main villain of the show is John the Don and his sidekicks Number 1 and Number 2 who steal things, most people's money and create havoc in Furfuri Nagar. It's always up to Motu, Patlu and their friends to stop them.
The series is originally in Hindi and has been dubbed in Tamil, Telugu, Urdu, Indonesian, Sinhala, Vietnamese and English, with English getting dubbed twice due to the first run only having dubbed seven episodes. A Spanish dub is currently in the works. There are several Bengali dubbed episodes which are very rare. Online, many episodes have English, Spanish and French subtitles available. It is uploaded on YouTube by Wow Kidz, the YouTube channel of Cosmos Maya.
Episodes
Note: This list needs to be updated.
Trivia
The show's name has been changed to Sutin Matin for the Sinhalese dub.
Community content is available under
CC-BY-SA
unless otherwise noted.