Welcome to the Motu Patlu Wiki!
This wiki is about the popular South Asian comedy cartoon Motu Patlu and includes detailed information about the characters, episodes, locations, items, and movies. This wiki also includes information about the Motu Patlu spinoff shows Inspector Chingum, and Guddu the Great.
This wiki currently has 1,004 pages, and 16,368 edits, and this wiki was created on April 29, 2014.
About
Motu and Patlu are two friends who live in Furfuri Nagar. They find themselves in very hilarious and surreal situations with their friends Dr. Jhatka, Ghasitaram, and Chingum. 
Explore
Policies
If you have even the slightest information to show, Be Bold! Don't Be Shy! Hit the edit button and start editing! Thank you for your contributions! We need your help!
Please do NOT vandalize this wiki. Vandalism (Adding abusive/false content) will result in immediate blocking, as this wiki has experienced a lot of vandalism. The first block will be of 1 month to permanently depending on the amount and severity of the vandalism done.
Do NOT post inappropriate pictures or videos on articles, or inappropriate discussion, or blog posts.
You have full authority over your user page, but if you will add any abusive words/pictures, they will be removed.
All images and videos originate from Wow Kidz and Nickelodeon India.
For more rules, please see the Rules and Regulations.
Enjoy your time in this wiki!
Site Staff
Featured Article
Dr. Jhatka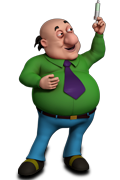 Dr. Jhatka
 is a scientist who resides in 
Furfuri Nagar
. He owns a laboratory where he usually creates new gadgets.
He likes to find guinea pigs for his experiments and Motu usually becomes one. Ghasitaram also works with him in the lab. 
See more here! 
Versions of this Wiki
Other Languages
The Motu Patlu Wiki is also available in several languages!
Motu Patlu: Puppet Show
Motu Patlu: Puppet Show is another show about Motu Patlu made by Lotpot. That show is one of the main inspirations for Motu Patlu. If you would like to see more information about Motu Patlu: Puppet Show, please go here.
External Links

Need Help?
Useful Places
News
Community content is available under
CC-BY-SA
unless otherwise noted.