Welcome to the Wiki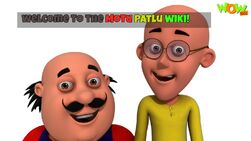 This wiki is about the popular Indian comedy cartoon Motu Patlu, and includes detailed information about the characters, episodes, locations, items and movies.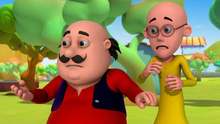 The active bureaucrat in this wiki is Meeta gautam and the admins are Labrain13. If you need any help contact them on their message walls. All pictures of this wiki belong to their respective owners. Images used here are fair use, as we only take a single frameshot of a tv show to explain it better. Video clips used here belong to Wow Kidz, who are the show's copyright holders, and our clips link to YouTube.
Policies
If you have even the slightest information to show, Be Bold! Don't Be Shy! Hit the edit button and start editing! Thank you for your contributions! We need your help!
Please do NOT vandalize this wiki. Vandalism(Adding abusive/false content) will result in immediate blocking, as this wiki has experienced a lot of vandalism. The first block will be of 1 week and the duration will keep increasing if vandalism does not stop.
You have full authority over your user page, but if you will add any abusive words/pictures, they will be removed.
To become a moderator(mod) you must have 40 edits and no record of vandalism and you should be active until you become admin.
To become an admin you must have 85 edits and no record of vandalism plus you should be active
To become a rollbacker you should have at least 20 edits, plus two instances where you removed vandalism, or reported it to an admin or bureaucrat
To become a Discussions Moderator, You must have at least 3 Discussion Posts and you must be active too.
To become a Chat Moderator, You must have 30 edits on the wiki or you must be active on the chat for 5 non-stop days.
To become a Content Moderator, You must have 25 edits on the wiki.
For any request or promotion, feel free to contact me or the admins. You can also make your request on the Request for Promotion page on the Forum and make a chat on the page giving the details asked in the article.
Featured Article
Patlu : Patlu is one of the central characters in Motu Patlu. He is Motu's best friend and lives with him in a house in Furfuri Nagar. He is a clever and brave man. He wants to live a simple life unlike Motu, who wants to achieve and be famous. Whenever they are doing something, Patlu is doing the right thing but Motu's clumsiness ruins it all. Nevertheless, he is loyal to his friends, especially Motu. They both have an unbreakable bond. He always says idea before telling the rescue plan to his friends. Read More on http://motu-patlu.wikia.com/wiki/Patlu
Featured Video
Who should be the burauecrat?
Ends on 31/7/2018
External Links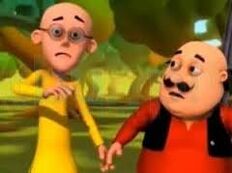 Community content is available under
CC-BY-SA
unless otherwise noted.