Description
He is a havaldar(constable) of Inspector Chingum. He assists him and Motu Patlu in catching criminals.
Appearance
He is a man of about 30 years old. He has black hair and a toothbrush mustache. He wears a police constable uniform. In some episodes he appears without his mustache.
Personality
Though he is obedient he sometimes tells Chingum if he is wrong. At the movie "Khazane ki Race", he takes things too seriously, displaying strength.
Powers and Abilities
He has a police stick and a pistol and the power of a constable.
Weaknesses
He is not very skilled in combat and clumsy like Chingum.
Dialogues
"You are great sir, but born little late sir."
Trivia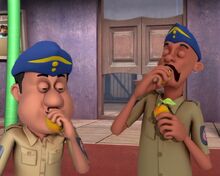 His and Hera's name is likely to be a reference to the Indian comedy movie series Hera Pheri.
He closely resembles Sharma, a Furfuri Nagar resident.
Gallery