Woh0 is a Content and Discussions Moderator
Content and discussions moderators are enforcers of the wiki's policies and moderates pages with their additional abilities. They have certain abilities to assist them in this task, such as the rollback tool or deletion of pages. They also manage discussions and conversations on the wiki, having tools such as managing the forums and the ability to restore threads. Please contact them on the Ask the Staff board or their message wall if you need their help.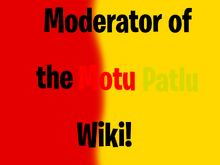 Hi! This is Woh0. I work constantly for the Motu Patlu Wiki. I'm a YouTuber, and I'm a Content Moderator and a Discussions Moderator in this Wiki. If anything is wrong, we will definitely go for help. If anyone is not following the rules in Motu Patlu Wiki, we will ban them immediately!
If you want to PM me or have a request or problem, please go to my Twitter page, or email me at deviscool2009@gmail.com.
My favorite pages
My Autobiography
I'm saying my autobiography because in the episode Lie Detector Robot, John said to Chingum it was his story or autobiography.
Hi! I'm Woh0. Just call me Dev. I like making YouTube videos, and I like playing video games like Roblox you know. I like working here at Motu Patlu Wiki. Since the day I've joined this website, I was getting addicted to adding new content that are related to Motu Patlu. I work here as a Discussions Moderator, Thread Moderator, and Content Moderator. I have made a lot of progress during the time I've been working here.
My New Stuff
My Favorite People
What I Want To Say
I just want to say to Nilraat, Meeta gautam, and Wolfie137, thank you all for making me part of one of the six admins. I just want to thank you all guys. You really made me part of this home. I'm so happy and excited and this is making me addicted since Day 1 over here. Thank you guys so much.
I really made a ton of progress, and I made a lot of new friends on this site during the time/span of me over here. You guys really made my day.
Plans
These are my new plans/goals on this wiki.
I plan to start Leadership Skills! soon.
I need to have more fame on this wiki by next month or so.
To be Number 1 in the leaderboard of this wiki. Nilraat is Number 1 on leaderboard, so I decide to surpass him.
Make more friends over here.
Make more articles and edit more, and add more categories.
Make more and better discussion posts.
To just chill and be cool.
Thanks!
Woh0