He is a minor character in Motu Patlu. Jon, the don and his goons sometimes steal his money and he complains to Inspector Chingum.He is welled dressed up for his job as a banker. He wears an expensive black suit for his job. Underneath his suit, he wears a white undershirt and tops it off with a red colored tie.
His hair is black and nicely cut by the barber. He has a full beard and mustache although he shaves it off on the side by his sideburns. His eyes are black with his hair and suit and he has thick black eyebrows.He is generally a humble man and not very greedy over money from his job. He however hates thieves and robbers such as Jon, Number 1, and Number 2 who always come to his bank to steal the money.He gets robbed very easily and does not set up a good security system in his nor does he want to physically fight Jon's goons as he would lose. He always depends on Motu, The Police, and Patlu's help to stop the criminals stop the criminals. Appears in Some Motu Patlu episodes Age 28-29 Hobbies Counting money, keeping his bank safe, drinking Chai Best Friend(s) Inspector Chingum, Motu, and Patlu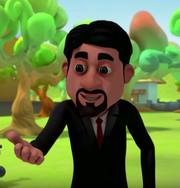 Community content is available under
CC-BY-SA
unless otherwise noted.